Everyone is interested in improving their visibility on the web. Many are looking for shortcuts. This is because of the fact that top rankings are a pinnacle of online business success.
According to a study by Infront Webworks, the first page of Google receives 95 percent of web traffic, with subsequent pages receiving 5 percent or less of total traffic.
How long does it take to improve search rankings? The fact of the matter is that SEO is more of a long game and anyone promising quick results should be greeted with a high level of skepticism. Skill, budget, the level of competition, and how your website stacks up against the competition can all play a role in how quickly one can move the dial.
So, bearing that in mind, let's break it down in a more quantifiable sense and review what you can do to make things happen sooner, rather than later.
Here are the top 5 tips to rank higher on search engines
Subscribe to our YouTube Channel
For those who want more details than those in the video above, you can continue reading the article below.
1. Content is King!
Did you know that the phrase "content is king" was coined by Bill Gates in January 1996?
"Content is king" is an often cited quote in the world of online marketing, search engine marketing and content marketing. Behind this is the belief that the content, the text in particular, is central to the success of a website.
The success of websites depends on quality content. A website must offer content that meets the demands of users, and it should be optimized for search engines such as Google and Bing.
Content is and will always remain the heart of marketing. You can never challenge the power of words. Content is indeed the best and most efficient way to connect with your audience, create brand awareness, showcase your brand's authority, and build trust.
The power of content marketing can be recognized from this fact: in 2016 more than 90% businesses decided to turn to content marketing. More companies were planning to join hands with content marketers to get on the bandwagon and keep up with the fast-paced digital world in the years to come. In short, there's no exaggeration in stating that every successful business today uses content marketing to climb the ladder of success.
The tools for content marketing include, for example, whitepapers, infographics, ebooks and blogs. Seeding of content is placing it on social media like Facebook, Twitter and Instagram.
The basis for relevant content is quality text. Good web content fulfills a number of criteria:
unique
target specific groups
entertaining and informative
reader-friendly, well structured and error free
optimized for search engines
2. Backlinks
A backlink for a given web resource is a link from some other website to that web resource. A web resource may be a website, web page, or web directory. For example, if you write a guest post on someone else's website and there is a link within that post that leads back to your site, that is what is referred to as a backlink.
The quickest way for search engines to find you is to tell them that your website exist. So how do you do this? Submit your website directly to search engines via their search consoles (e.g. Google Search Console) and to other online directories.
However, not all backlinks are created equal. For the overall health of your website, it is imperative to know the difference. A backlink is considered to be a vote of confidence.
If someone allows you to have a link from their site to yours, then clearly your site must be trustworthy. But you still must be careful.
Google places a lot of importance on backlinks and it is vital to understand what separates the good from the bad.
A quality backlink is when you get a backlink from a legitimate, respected website. It is a site with great content and that abides by Google's standards. If you are receiving a backlink from a site that appears shady or that it is trying to "game" Google, then that can be harmful. Google will look at this shady site and will follow that link back to your site. Not only will they penalize the shady site, they will penalize you as well. Don't let this happen. Carefully select the websites you choose for backlinks.
How to Obtain Quality Backlinks
Backlinks have so much importance to Google because they can be tough to obtain. They require effort on your part. One simple way, as mentioned above, is to guest post on respected sites. Find a site within your niche that is well known and pitch a guest post to them. Another easy way to get a backlink is by writing a press release. There are many press release sites out there you can use, but, again be careful to choose a respected one. By writing a press release you will get a backlink and your content will be in front of thousands of potential readers.
Getting quality backlinks all comes down to content. Writing for websites, writing press releases and writing your own quality content and promoting it are the most well-known and respected ways to get backlinks. By sharing quality content, Google will reward you.
Quality backlinks are considered to be the currency of the internet. The more you have, the richer you are.
3. SEO Friendly URLs
A friendly URL is a Web address that is easy to read and includes words that describe the content of the webpage. This type of URL can be "friendly" in two ways:
It can help visitors remember the Web address, and
It can help describe the page to search engines.
For example, a company may use the URL www.[company].com/support/ for the support section of their website. This is much easier to remember than a long convoluted URL, like www.[company].com/section/support/default.aspx?id=1&lang=en.
While user-friendly URLs are helpful for visitors, most webmasters are more concerned with creating search engine-friendly URLs. These URLs include important keywords that describe the content of the page. Since most search engines include the Web address as part of the information that describes a page, placing keywords in the URL can help boost the ranking of the page. Therefore, this strategy has become a popular aspect of search engine optimization or SEO.
For example, a blog that includes tips for Windows 7 may have a URL like blogger.blogger.com/2011/02/windows7.html. A search engine friendly version of this URL may be blogger.blogger.com/2011/02/helpful-tips-for-using-windows-7.html. While this type of descriptive URL may help with search engine ranking, it is important not to create ridiculously long URLs just to describe the page. After all, search engines still focus primarily on the content of each page when indexing websites.
When you create a website using HostFiti Website Builder, the site's friendly urls are created automatically.
4. Updated Website
Not only does your website have to be well written and original, but it has to remain dynamic with fresh content added in a regular basis. This also includes checking for issues such as:
Plugins or themes that need to be updated.
Missing and/or poor-quality images.
Incorrect and/or outdated user information.
Formatting and/or style issues.
Missing and/or out-of-date content.
Broken links (If you are using our website builder, go to SEO > Broken Link Checker tool).
5. Search Engine Optimization (SEO)
The basics of SEO is configuring your website's meta tags. What are meta tags? Meta tags are snippets of text that describe a page's content; the meta tags don't appear on the page itself, but only in the page's code. We all know tags from blog culture, and meta tags are more or less the same thing, little content descriptors that help tell search engines what a web page is about.
The most important meta tags are meta titles and meta descriptions.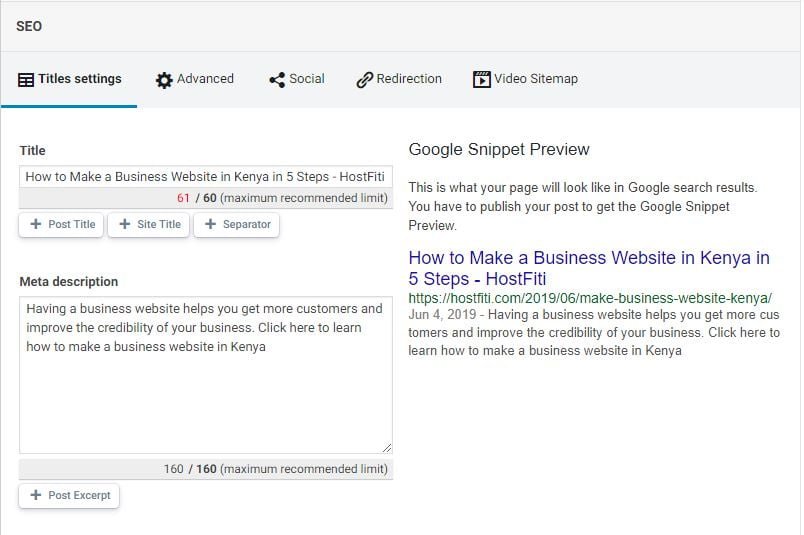 Meta titles and descriptions packed with keywords don't directly influence your rankings BUT they remain a strong psychological factor affecting the click through rate (CTR) and overall user engagement.
So don't get confused by blogs saying that title tags and meta descriptions aren't important at all. On the other hand, keep in mind that Google changes titles and descriptions to better indicate their relevance to the search query in case your text doesn't match enough.
Conclusion
Improving your website's search rankings is a continuous process, which when done right, will eventually be worth your while.
Do you think this article will help someone? Don't forget to share.
Subscribe to be notified about new marketing, entrepreneurship & web development posts.
Make a Professional Website using HostFiti Website Builder
Having a professional business website helps you establish credibility as a business. Make your professional website using our drag and drop website builder in minutes and make it convenient for your customers to contact you.
Starting from $14.99/mo inclusive of bulk SMS, hosting & unlimited email accounts.