If you operate a business and you don't have a website yet, you should really consider building one.
Why should you create a business website? The truth of the matter is that you can't afford not to have one.
Your business website can help you generate more clients throughout all aspects of the customer acquisition cycle, such as when a prospective client:
Performs a broad internet search for what sort of businesses can help with solving his/her problems – and discovers you;
Wants to find out more information about specific businesses to see if he/she should inquire for more information;
Retrieves your contact information to reach out to you either through email or the phone.
The situations on how you can benefit from having built a business website are endless.
Let's face it, you probably use the internet to find out more information about various businesses too, right?
Gone are the days when you can only rely on having your business listed in the Yellow Pages or word-of-mouth. While these "old school" methods are still effective to a certain extent, creating a business website is complementary to other methods of attracting new customers.
If you're wondering how to build a business website, just know that it's not as hard as you think.
This guide will walk you through what you need and how to get started in building your business website in Kenya. Here are the 5 simple steps to get you started on your way to creating a fantastic business website:
Step 1: Come up With Your Website's Domain Name
Step 2: Choose Your Hosting Provider & Platform
Step 3: Create Your Website Content
Step 4: Design a Logo
Step 5: Design Your Website
Step 1: Come up With Your Website's Domain Name
Anyone who ever used the internet knows you need to insert a website address to get to any website.
A domain name is the address of your website.
While it is very common for businesses to have domain names that are the same as their business names (such as walmart.com), you can pick a domain name to include any text phrase you want as long as it is not already taken.
For example, the domain name for our website is www.hostfiti.com. For businesses it's important to think about how your domain will be relevant to what you do. It's the first contact a lot of people will have with your site, so make it count.
There are two costs associated with getting your own domain name:
Cost to buy a domain name; and
Cost to keep your domain name registered every year.
The cost of a domain in Kenya typically costs around KShs1000 to purchase, and the same price range for you to keep it registered in your name every year.
If someone already owns the domain name you want, you'll need to select a different domain name or it is possible to reach out to the owner to buy it.
Tips for Choosing Business Website Domains
Here are the best practices for finding an available domain name that fits your brand:
Add Search Keywords – Domain names are important for search engines like Google. Consider including words that people are likely to use when searching for your business. For example, "ProStarLawncare" is probably better than "ProStar."
Avoid Random Symbols or Punctuation – Domain names should be easy to pronounce and remember. Keep your name as short as possible and avoid punctuation like dashes.
Use Location Keywords – Use location keywords to find a unique URL. If all desired domains are taken, add your city/area name to the domain. For example, a company called Smith Plumbers based in Nairobi, you could try www.smithplumbernairobi.com.
Step 2: Choose Your Hosting Provider & Platform
Once you've chosen a domain, the next step is to decide where to host your website. A host is the service that actually stores your website and transmits it to online visitors.
If you want a custom made website, we suggest that you get a reliable web hosting provider. We have written an extensive article on the best and cheap web hosting companies in Kenya which you can read it here. Once you have purchased a hosting package, you can hire a web developer who will create the business website for you. Learn how much it costs to create a website in Kenya here.
If you are less tech savvy or you are on a tight budget, you can develop your website using a website builder, the service that we offer. From Kshs 3999/Year, our website builder offers a drag-and-drop interface, templates, and plug-ins or apps that make it easy to design your business website. You start by choosing a template, then customize by adding your own pages, text, and images, and changing colors and fonts.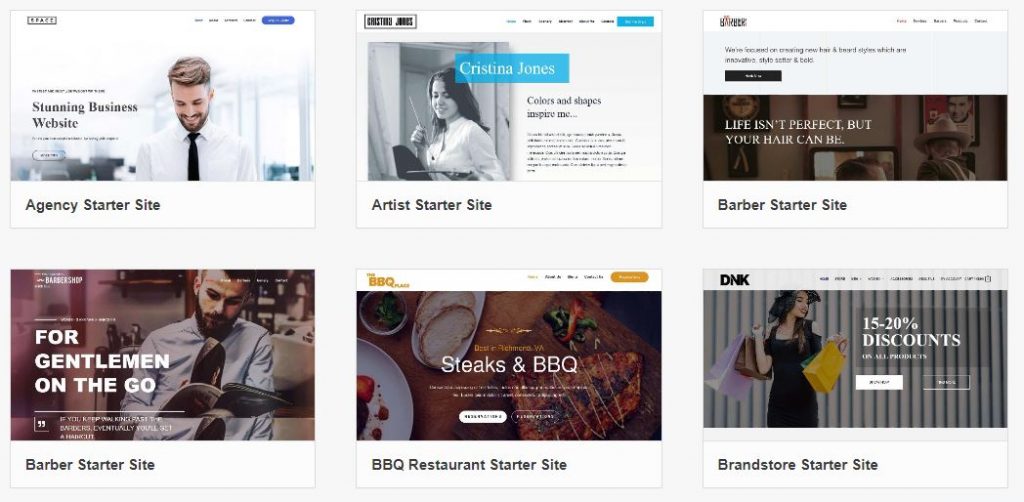 The editing is very intuitive. If you've ever used Microsoft Word or PowerPoint, you'll easily grasp the tool. Add elements by dragging them from the sidebar, adjust the size by dragging from a corner, and change text by double-clicking within the text box.
It's also easy to add interactive features to your website. The builder has click-to-add options for Google Maps, quizzes, YouTube/Vimeo embeds, web forms, polls and surveys, and more. This can make your website more functional, help your customers engage with your business, and share your content on social media.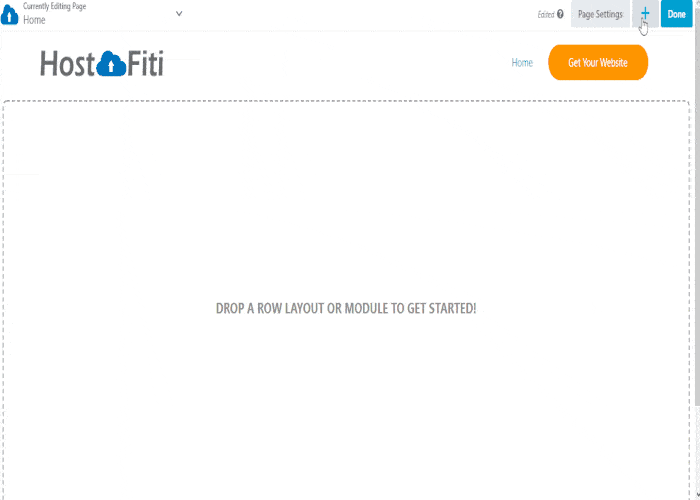 Step 3: Create Your Website Content
Website content is the copy you write for the pages on your website. Business websites work best when they're simple, clear, and easy to navigate, with straightforward text and a single call to action on each page. Business websites also tend to have five essential pages, including Home, Products (or Services), About Us, Blog, and Contact Us pages.
To begin, write out the copy and images you want to include on the following:
Homepage – On the homepage, you should include the name of your business, where you're located, and a simple pitch that includes a few lines about what makes you unique and/or why customers should choose your business.
Products or Services – This page should offer details about the products you sell or services you provide. Spend one to five sentences describing each type of product or service you offer and then list their prices.
About Us – Provide your company background and list organizational memberships like the Better Business Bureau. Also include customer testimonials; these help your company build more trust and credibility.
Blog – Create an editorial calendar to determine the blog content that will help you connect with your customers and community.
Contact Us – Your address, email, phone number, the hours you are open for business, and links to any social media accounts such as Twitter and Facebook should appear on this page. You should also embed a Google map, if applicable.
Ensure Your Website Is Mobile Optimized
A mobile-optimized website adjusts to mobile devices by altering the layout for smaller screens to make it attractive and user-friendly. More than half of customers browse from their smartphones instead of a computer, so it's imperative as a small business owner that your website is mobile-friendly.
The good news is that our website builder automatically creates mobile-optimized websites for you. Known as "responsive," these websites can detect the type of device visitors are using and automatically shift the content to give them an ideal experience.
That said, even if your website is responsive, it's usually a good idea to make some additional adjustments to your mobile site. Your mobile website should make your call to action a central focus, whether that's getting users to call your business, fill out a contact form, join a mailing list, or make an online order. Remove any excessive details that might make that more difficult.
Click-to-call buttons are especially helpful if you want mobile visitors to dial your business. This is a button that, when clicked from a mobile phone, automatically populates your business' phone number into the visitor's phone dial pad. An embedded Google Maps widget is also key for customers who are browsing on-the-go so they can quickly and effortlessly access navigation to your store.
Step 4: Design a Logo
The colors, font, and style of your logo will affect the design of your website. This is because you want a consistent theme between your logo and web pages.
If you already have a logo that you are using in the offline world, then perfect. Find the digital file, or create a high-resolution scan to use on your website. If you do not already have a logo, or want to upgrade from your existing design, there are three key ways to create one.
Design a Logo Yourself
There are a few logo design software platforms you can use to design your own logo. Try Tailor Brands if you want an easy way to create an appealing logo. Once you create your logo, you can subscribe and gain access to branding features, including seasonal logos, branded social media posts, branded landing pages, print-based design files, and more. You can try it for free, and if you find a perfect design, you can subscribe starting at $2.99.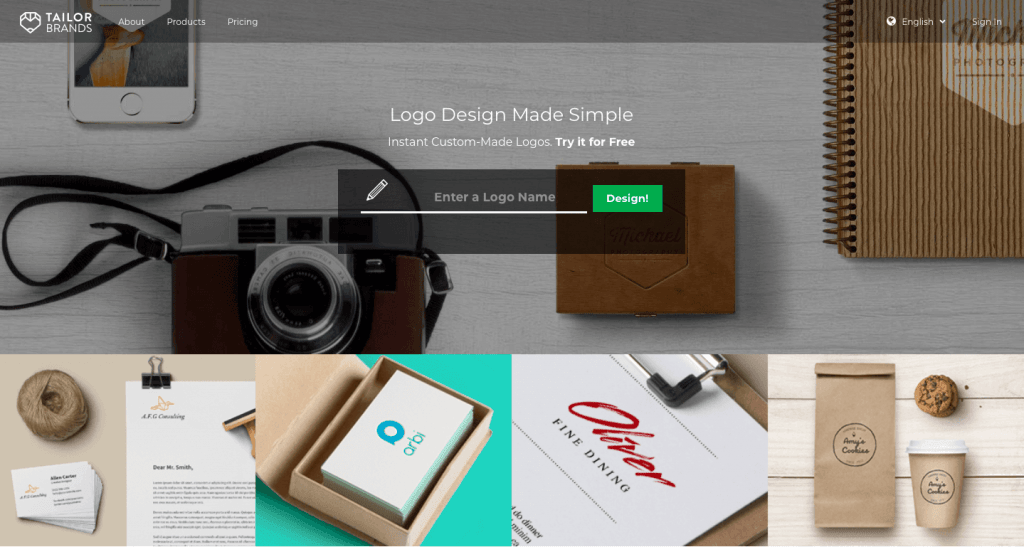 Hire a Project-Based Designer
Fiverr.com is a site where businesses can hire a freelancer to complete one-off projects. On this platform, logo design starts at $5. If you use the $5 option, you may have to wait a couple of weeks to get your logo. For around $20, you can often get it within a week. Open a Fiverr account, then find a 4.5- to 5-star designer (at least) or a "Top-Rated Seller" with a portfolio you like, then reach out.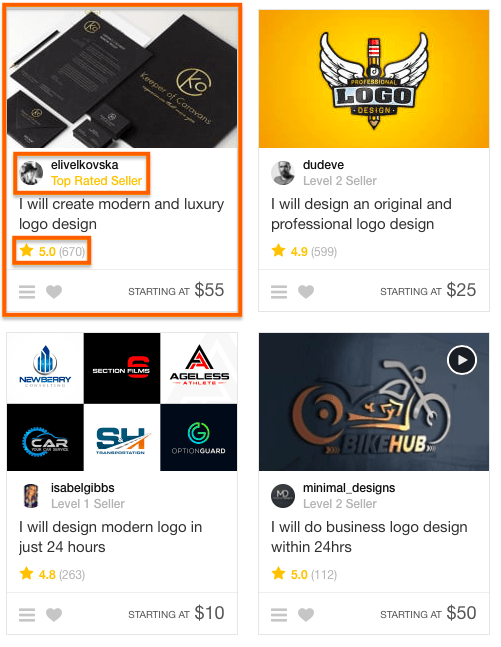 Step 5: Design Your Website
To design a website, envision and plan how your site will be laid out, including the colors, fonts, images, page structures, interactive features, copy, and graphics. It's been shown that it takes someone less than three seconds to decide whether to stay or leave once they hit your website, so it is imperative that you make a good first impression.
Here are a few tips to ensure your website design is up to par:
Have clear navigation: You want people who visit your site to instantly know what your business is about and where to go to learn about your products or services, find pricing, contact a representative, or make a purchase. If your site is not clear, people will get frustrated and leave.
Use call to action buttons: Implementing buttons with clear actions will immediately attract the user's eye. This helps you to lead the person to take your desired action.
Make sure your site loads quickly: People are impatient, and if your site takes even a fraction of a second too long to load, people will give up and look elsewhere. Make sure your web host provider, like Bluehost, has fast load times.
Keep it minimal: Don't overdo it with the design and definitely don't feel like you need to cover every square inch with information or a design. White space is your friend. By keeping the look minimal, you can focus attention on the things that you want people to really pay attention to.
Conclusion
Building your first business website or improving on an existing one doesn't have to be overly complicated.
You can either approach it in a very complex way or keep things simpler by using the right tools with the right plan. A business website doesn't need to be expensive or time-consuming to create.
Once you know what to do and which tools to use, building a business website can be a lot easier than you were led to believe.
With a good drag & drop website builder, you can build a professional looking and functional website in days or weeks while keeping your financial commitment under control, rather than spending months and thousands of shillings.
Do you think this article will help someone? Don't forget to share.
Subscribe to be notified about new marketing, entrepreneurship & web development posts.
Make a Professional Website using HostFiti Website Builder
Having a professional business website helps you establish credibility as a business. Make your professional website using our drag and drop website builder in minutes and make it convenient for your customers to contact you.
Starting from $14.99/mo inclusive of bulk SMS, hosting & unlimited email accounts.