What is your website's purpose? If you can't answer this question, there is a good chance you are wasting your time and money. Don't let this happen to you. Do not create a website just because every business is doing this. Get the right strategic measures and planning before you start building a website. You should know why you want to build a website and what you want to achieve with it.
The purpose of your website can be anything, ranging from providing information to selling products & services, to providing access to your company to allowing customers to interact with your organization. You should be clear with your purpose in advance and build a website accordingly. According to a survey, conducted by Martin Bauer, 30% website owners said the main purpose of their websites is to provide information to current and potential clients while 27% people create a website to market their organization. 3% Of people were those who were not aware of the purpose of their websites.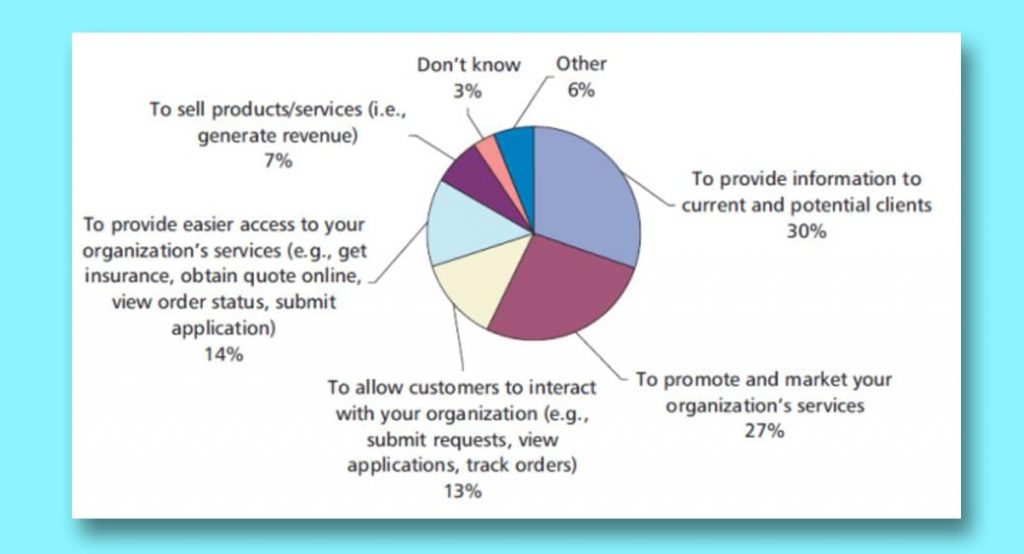 Website Purpose – Possible Options
If you are struggling with finding the actual purpose of your website, continue reading this post. Even if you choose the best design, best hosting, and best marketing strategy, you're going to squander everything if you are not aware of the right purpose of your online business. We will help you do that right and explain where to start.
Basically, you have three options when it comes to choosing the purpose of your website, which are:
1. Selling Products and Services
If you want to sell your services and products, you need to create an eCommerce website. It will require you to invest a big amount of resources on website development and marketing. However, it gives you direct revenue, measurable profit, and sales-leads as well. HostFiti Website Builder reduces your cost of setting up your ecommerce website, saving you more money best used in marketing your business. View our ecommerce templates.
2. Generating Leads
In a sales context, a lead refers to contact with a potential customer, also known as a "prospect". A website helps you generate leads by having call to actions that direct users to join a mailing list, download a free product or fill a product enquiry form.
A well designed website enables you to get more leads who may later convert into customers.
3. Providing Information
This is a type of website whose sole purpose is to provide information about a business. This types of websites are called brochure websites.
A Brochure site gives your company or product a web presence and acts as an online version of a business card. Brochure sites convey a sense of permanence and credibility to your customers, and also provides them with valuable information, such as contact details, opening times and a way to contact you.
Major Factors of Website Purpose Identification
Having shown you the major website purposes, how do you know which option is ideal for you? There are a lot of factors that may go into that decision. Some major factors to consider are the following:
1. Your Business Niche
A law firm which is specialized in antitrust companies might not get leads from Pay Per Click ads. The firm will need to build a solid impression on their potential clients. In contrast, a law firm which is specialized in cases like a personal injury has more chances to generate leads form pay per click ads and Google search. The antitrust firm has better options than investing in a lead generation website. Whereas for personal injury firm, a lead generation website may make all the differences in the world.
2. Your Business Location
For example, if you have a local art gallery, building a credential site may make more sense to you. However, suppose the art gallery that wants to showcase its art regionally or internationally, eCommerce and lead generation option can be good options for such websites. However, your marketing budget will play a crucial role in that.
3. Supporting Business Structure
Sometimes, even well-planned lead generation website fail because of the reasons like the sales department is not capable of following up the leads properly. Speaking of an eCommerce website, they may get collapsed, if IT resources are overwhelmed by system demands.
Consequently, a website strategy must be thorough in the context of your overall business capabilities. Each type of site has its own set of features. It is difficult to mix and match features. It would not be wrong to say that mixing the purpose of your website may do more harm than good.
Tips to Define Your Website Purpose
When you know the purpose of your site, you better serve your customers and prospects. Below are a few tips that will help you define the purpose of your site. Let's have a look at them.
1. Recognize Your Target Audience
You can start with your business plan. Review your goal and consider why you began your website. See your website as a tool that helps your company meets its objectives.
2. Review the Statistics of Your Website
It may play a huge role in defining the main purpose of your website. Take a look at current analytical reports of your website. Check out the visited pages and rate of abandonment. Get to know about your website's visitors. For example, their geographical location, age, occupation, and gender. After all, these are the people who have shown interest in your product or services.
3.Research on the Technical Capability of Your Customers
Some internet users enjoy surfing sophisticated websites. While others prefer simpler ones that need little technical expertise. The device they use also play a role in how they react to your website. For example, some use mobile phones while others desktop or laptops. Find out the preferences of your target audience.
Final Words
Different websites are built with different purposes depending on who the targeted audience is. Some websites are geared toward offering practical information while others focus on selling services and products.
Do not launch a website because everyone around you is doing the same. Know the exact purpose of your website. You should know whether you want your website to be a simple brochure website offering basic information or you want to promote your brand and encourage people to buy products. Even on the landing pages, you should make your goals very clear. Your audience should not be in doubt about the motive of your site.
Do you think this article will help someone? Don't forget to share.
Subscribe to be notified about new marketing, entrepreneurship & web development posts.
Make a Professional Website using HostFiti Website Builder
Having a professional business website helps you establish credibility as a business. Make your professional website using our drag and drop website builder in minutes and make it convenient for your customers to contact you.
Starting from $14.99/mo inclusive of bulk SMS, hosting & unlimited email accounts.